Mt Woodson Hike ( Frontside )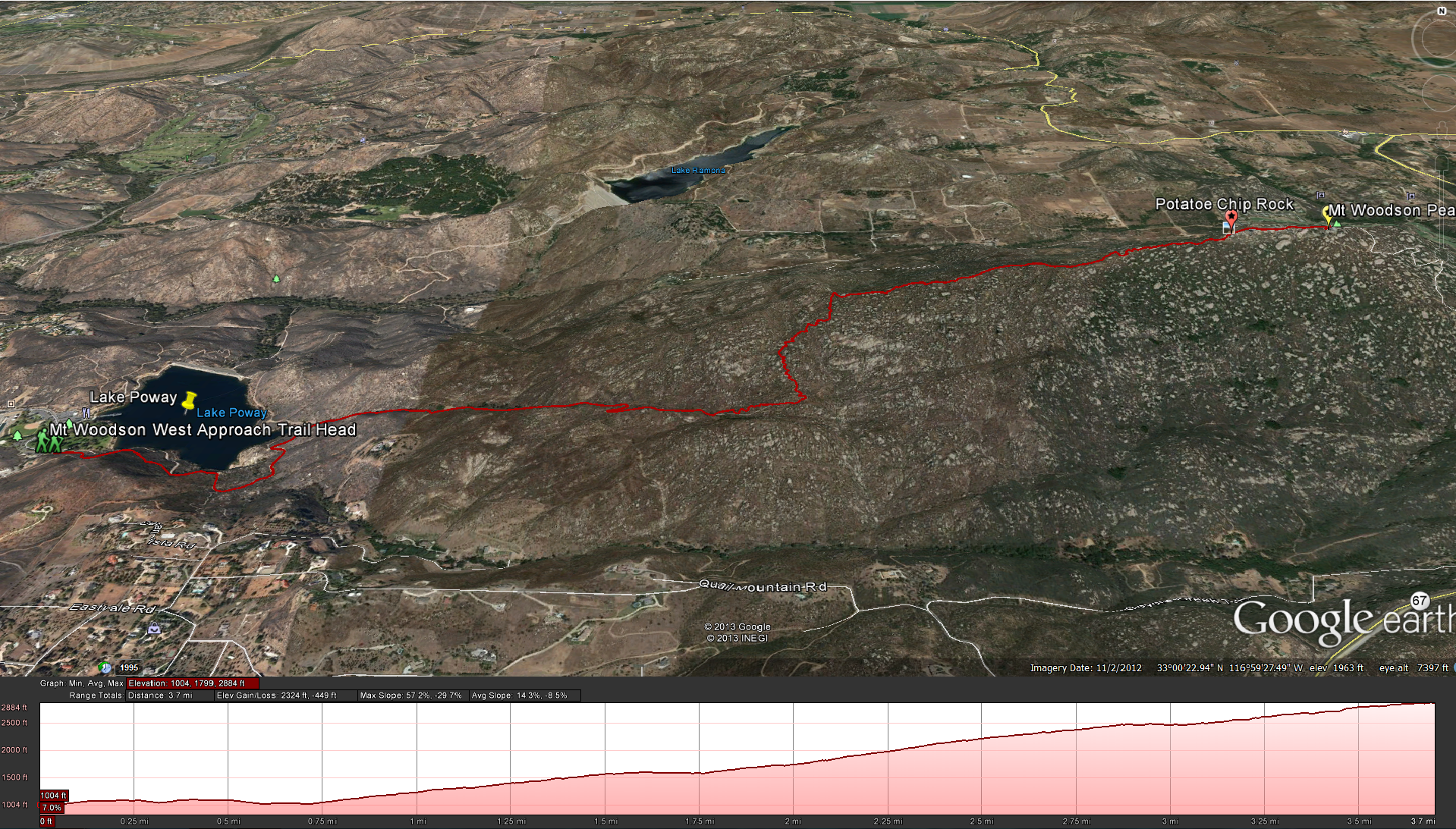 Google Earth: Mt Woodson Frontside Trail
Distance : 7.5 miles ( from the parking lot) Elevation Gain: about 2000 feet. Time to complete: 2.5 – 4 hours depending on your fitness levels. Difficulty: Hard
Directions: The easiest way to get to the start of this hike would be to head to the 15 freeway, north or south, but you want to get to the Rancho Bernardo Road Exit and take Rancho Bernardo Road east. Rancho Bernardo Road will turn into Espola road as it cross's Pomerado Road, but don't worry just keep on the same road. Espola will keep heading east and then hit a right bend, keep following the road until you get to Lake Poway Road and then take a left onto Lake Poway Road and follow it up to the Lake Poway Recreation Area. Lake Poway Park, 14644 Lake Poway Road, Poway, CA 92064.
Is this hike Pet friendly ?: Well that all depends. If you are going up in the early morning and have lots of water for you and your dog ! and your both in good shape then I would say sure. I would not suggest that you drag your pets, or loved ones up this hike starting in the late morning or early afternoon, especially without a good supply of water. I can't tell you how many times I see people heading up this trail unprepared.
Is this a kid friendly hike?: I never see to many kids on this hike, its a long steep hike, so unless you child has some experience hiking and likes doing it I wouldnt suggest it. If you really want to take your kid up you might try the backside trail first and if they do well on that trail then try the front-side trail later.
Are there bathroom facitlites ?: The beginning of the hike starts out at the Poway Lake Recreation Area, its a large beautiful park with many facilities, so there are a few areas for bathroom facilities at the bottom before you begin the hike, there is nothing else along the way, so I would suggest that you take care of what you need to do before you begin the hike. ( They have added some porto-potties to the far-side of the lake just before the trail starts going up)
Equipment you will need: You should use some sort of hydration pack, it keeps your hands free and holds alot more water then what you can carry in your hands. I would also suggest a good pair of hiking boots, you can get away with using running shoes but this trail in much more comfortable in a decent pair of hiking boots. Food-your going to want a little something to eat when you get to the top, even if its just a food bar. Camera, your going to want to take some pictures on this hike, on a clear day from the top you can see San Clemente Island, and Catalina Island to the west. I've even seen Mt Baldy to the north when its not to hazy, and lets not forget everyone's favorite Facebook photo, Potato Chip Rock.
This is one of my favorite hikes. I use this as a training hike in order to get ready for harder hikes like Half Dome in Yosemite, San Jacinto Peak and even for Mt Whitney. This is a Medium to Hard hike depending on your fitness level. Make sure to bring lots of water as this hike does get hot.
To Start this hike head to the Lake Poway recreational area park. The trail starts along the right side of the lake and heads back around to the backside of the lake. At this point the trail starts up a steep fireroad, this will continue for about the next 15-30 min depending on your fitness level, and for the first time hiker it will start to break you, for the intermediate to advanced hiker its one hell of a warm-up.
As you head up the fireroad continue to look behind you and see the unwinding view of Lake Poway and the surronding San Diego Countryside. A large portion of this mountain was burned during the 2007 wildfires http://en.wikipedia.org/wiki/October_2007_California_wildfires and it took a long time for the ash to fade away but sometimes you can still see the dark patchs on the trail and see the long dead burnt trees.
As you get towards to top of the fire road the trail will level out and you will reach a great spot to look out towards the city on a clear day. There is a picnic table to sit at for a while if you need to and if you have any dogs there are dog bags and trash cans at this spot.
From here the trail starts to turn into single track and continues on level until you get to the point where the trail splits. If you continue on straight you will now be on the Warren Canyon Trail, The Warren Canyon Trail heads east for about 2.3 miles before it runs into Highway 67, if you turn left you will head up the Mt Woodson Peak Trail which will reach the peak in 1.9 miles. As you continue to go up the Mt Woodson Summit Trail you start to hit a lot of switch backs. The switchbacks will continue to get harder until you hit the one and only true shady spot to enjoy on the hike, so if you need to, sit for a few minutes under the shade of the wonderful tree until you are ready for more, and then hit the trail.
After the shady tree the switchbacks continue but the grade starts to let up a little. Not to long after passing the shady tree you will see that trail split again, go left for Fry/Koegel Trail and go right for the Mt Woodson Summit Trail, you now have 1.3 miles to go. In just .2 miles the trail will split again, the trail for Old F/K going to the left and then trail for Mt Woodson summit going to the right for 1.1 more miles.Eventfully you will start to traverse more along to the top of the ridge towards the antennas and at this point you can look off to either side, north or south and get some wonderful views.
When you finally get near the top you will see Potato Chip Rock, if you go during the week its usually not to busy and very enjoyable. If you go during the weekend be prepared to see a lot of people lining up to get their picture taken on the rock, and why not, they worked hard for it and so have you, just have some patience.
If you don't want to wait keep heading up to the very top near the antenna's and enjoy the 360 panoramas. Find a nice rock to sit on and have a bite ( there are a few to choose from ) and you can hit Potato Chip Rock on the way down.
Monday 12/18 0%

Clear

Sunny. High 72F. Winds WNW at 5 to 10 mph.

Tuesday 12/19 0%

Clear

Sunny. High around 70F. Winds WSW at 5 to 10 mph.

Wednesday 12/20 20%

Clear

Except for a few afternoon clouds, mainly sunny. High 62F. Winds W at 5 to 10 mph.

Thursday 12/21 0%

Clear

Sunny. High 66F. Winds NE at 5 to 10 mph.

Friday 12/22 0%

Clear

Sunny. High 66F. Winds N at 5 to 10 mph.